Charity Qurbani Review 2020
Finally! We can relax and let you know what we did this Qurbani! 🙂
Whilst Qurbani had come and gone many weeks ago we've been busy working our way through the many charitable thirds and full Qurbani carcasses donated by generous donors fulfilling the sunnah of giving meat to those in need. Many of you will know that lamb carcasses can be hung, or matured, in industrial refrigerated chillers for 10 days and more. Not only does this increase the flavour intensity but it also softens the meat internally as enzymes work to break down the muscle structure to deliver a deliciously tender yet flavoursome cut. It also allows us crucial time to cut and pack the Qurbani meat ready for distribution to worthy causes.
What we give for charity should be what we would want for ourselves. Here's a summary of what we've done with your kind donations in 2020.
Skin proceeds
Alhumdulillah we have collected £425 of skin & by-product proceeds from those who wanted us to discharge this responsibility on their behalf. If we look at Qurbani performed across the whole of the UK it is estimated that between £50-100,000 of skin & by-product proceeds is UNACCOUNTED FOR! That is a lot of money that should be used to support those in need. Next year we will plan to create a campaign around this so that more needy people can receive financial support as a consequence of the ibadah of Qurbani.
We sent the proceeds as normal to Islamic Relief. Tufail Hussain, Director Islamic Relief UK, responded as follows
"Alhumdulillah, we are so grateful for this donation from Euro Quality Lambs and their generous Qurbani donors. Skin and by-product donations from the Qurbani animal will go a long way to feeding those in need and we welcome this initiative to ensure that the Qurbani is fully utilised to benefit the people we serve. We are also extremely proud of our partnership with Euro Quality Lambs and with their help have delivered Qurbani to some of the most vulnerable people across the UK. We only wish to give the highest quality meat to those who need it most, this is why we choose to work with Euro Quality Lambs."
Charitable Thirds & Full Charity Qurbanis
Alhumdulillah 330kg of meat was generated in charity meat directly through EQL and a further 480kg of meat was donated by HHUGS that was excess to their needs.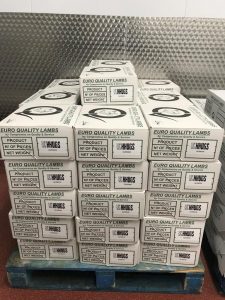 Syrian Refugees in Shropshire & Regions
Through our masjid, Craven Arms Islamic Centre, and our connections in the South Shropshire Interfaith Forum we have come to know many refugee families that have been settled in the surrounding areas. There are 6 families in Newtown, 4 in Llanydroes Wells, 11 in Shrewsbury, 2 in Wem, 15 in Wrexham, 6 in Oswestry and 15 in Telford. Many have settled over a number of years whilst some are new families moving into the area. Some families consisted solely of widows and their children. We distributed on average 10kg per family and their reaction was priceless.
Imam Sohayb Peerbhai of CAIC personally distributed the meat around Shrewsbury, Wrexham, Oswestry and Telford. He commented as follows
"Alhumdulillah we had the opportunity to distribute Sadqa meat locally to many Syrian refugee families this Qurbani 2020. I personally delivered the meat to the families in Shrewsbury, Oswestry, Wrexham and Telford. A big jazakullah to EQL and HHUGS donors for their generous donation. May Allah swt accept everyone's efforts and give them the best of Ajr." 
Sue & Mark, our Jewish friends from the Interfaith Forum, graciously helped distribute the meat to Newtown and commented as follows
"Hina (not real name) and the other families all asked me to pass on their thanks to everyone who has helped with the boxes. We distributed them round this evening the nearby families were sending someone to collect them this evening too. Thank you once again for your generosity!"
A picture was taken of Sue giving meat to a family but out of respect only their hands were shown.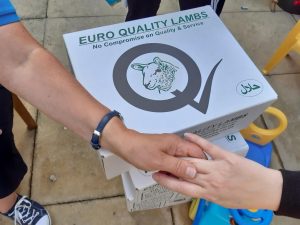 Every Human Matters
We had a request from the charity Every Human Matters (registered charity 1170633) in Birmingham that wanted to cook and distribute meat for homeless, refugees and those in need. We allocated 70kg for them to cook and distribute.
Courier Requests
Through the local refugees and well-wishers, we became aware of other refugees and asylum seekers that used to live in the local area but have since moved away. We were requested if we could send some meat to them via courier which we obliged. This was unplanned cost & distribution but we were happy to support those who had a connection with the area.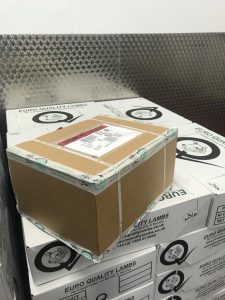 Shrewsbury Food Hub
Imam Sohayb dropped off 74kg of vac-packed British cuts to Shrewsbury Food Hub that would then be distributed to local food banks in the area. Pippa received the meat and was very grateful for the support. Her manager Katy commented.
"Thank you so much for your generous donation. It is so appreciated by our partner groups enabling them to get nutritious meals to people at this time of great need. Many, many thanks."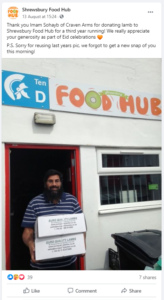 Rockspring Community Centre, Ludlow
Imam Sohyab dropped off 18kg of vac-packed British cuts to Nicola North, a good friend of ours who has co-ordinated amazing work supporting refugees in Lagos and elsewhere. She helps out at the soup kitchen in Rockspring Community Centre on Thursdays where the meat will be gratefully used. Her friend is pictured receiving the meat at Nicola's house.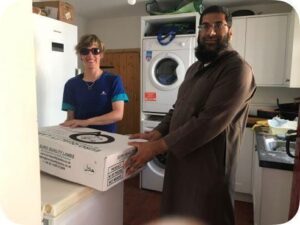 Qurbani 2021
We are very grateful for everyone's support and insha'Allah we look forward to generating even more charitable meat next year to give thanks and spread the baraka and blessings of fresh Qurbani meat to those in need. Please support us in our collective endeavours.
May Allah swt accept your Qurbani and sincere intentions. A final Eid Mubarak from all of us 🙂